Comic book conventions have always seemed strangely out of reach for me. When I was younger, I attended the little day conventions in some neighborhood hotel, a dealer's room of back issues and merchandise. Occasionally they'd invite a guest. Usually I'd ignore them. I didn't recognize most of the names and I was more after more stories to read. At one event, they brought Adam Hughes. I recognized him from his work on Maze Agency. What I didn't know was that he was on a long run of JLA and known for his pinup work. That aspect of work went completely over my head. Since then, I've gone to science fiction conventions, I've even daytripped my local anime con, but I couldn't find a way to the comics shows. SPX was a interesting test of the convention waters, but I'm a four-color superhero girl at heart.

I'd heard a lot of positive things about Heroes Con in Charlotte, North Carolina, how friendly and welcoming it was to newcomers. I liked that it was comics-focused, rather than a media show. So when the opportunity arose to attend the show this year, I leapt at the chance. I road tripped and shared the room with several other fangirls. Experiencing the con through the other people's eyes was fun, since left to my own devices, I might have stayed in my safe little corner. Instead I could discuss insane comics topics like Clint Barton's former occupations, come up with a fantasy baseball team, and or play a marathon game of Apples to Apples.



Or see a glorious rainbow over Richmond, Virginia after the sun came out in the middle of thunderstorm.



MEET THE ARTIST, TALK TO THE WRITERS

The neatest part about the con was doing the "meet and greet" with all the different writers and artists. I loved having the opportunity to tell them how much I've enjoyed the work. To my credit, I think I acquitted myself pretty well. I introduced myself with my twitter name and every artist thanked me for retweeting or mentioning their work. If I love something, I like telling people about it. I very rarely rip someone's work. I'm more likely to say it wasn't to my taste -- different strokes for different folks, I always say.

Some of people I met/signed/sketched/etc: Thom Zahler, Jeff Parker, Tom Fowler, Gabriel Hardman, Francesco Francavilla, Colleen Coover, Paul Tobin, Steve Epting, Jim McCann, Chris Samnee, Matt Kindt, Bobby Timony, Joe Staton, Roy Thomas.


Most of the creators added lovely little sketches and personalized notes when they signed stuff.

Some had specific pages geared for these sketches. Francesco Francavilla's Black Beetle ashcan had a similar location planned out. Black Beetle is his original pulp inspired character. He publishes an irregular strip online "Kara Bocek". I know him mostly from his fantastic coloring work on "Green Hornet: Year One".




Others just added it to the first blank page inside.

Tom Fowler and Jeff Parker both signed my Mysterius: the Unfathomable trade. Fowler sketched this charming profile of Mysterius himself with his prominent nose. While I can see why Fowler's style might irk the traditional super hero fans, his art style really is perfect for the ornery old Mysterius.



Bobby Timony drew a little head sketch of Roscoe, the gargoyle troublemaker from Zuda's Night Owls.

Not to be outdone by the artists, Jim McCann, rascal that he is, personalized my copy of New Avengers: Reunion by drawing a thought balloon near Clint with "Thinking of..." with my name inside. Oh Clint, you're not really the blonde guy I fantasize about...)


Whereas Matt Kindt's little sketches for his Super Spy books blend so well into the layout, it's hard to believe there weren't there to begin with.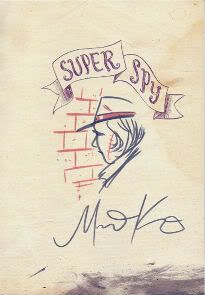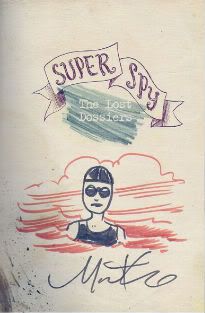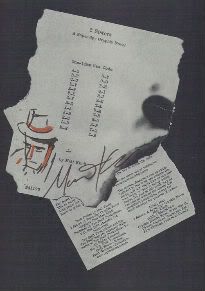 Whatever the case, I really appreciated the artists and writers going out of their way to personalize their signing. I was a little worried I'd utterly clam up talking to people or worse say something stupid.

Before the con, I pre-ordered a sketch from Colleen Coover for the Timely era Miss America as an old style figure skater. I'd been inspired by an old photograph of 1960 Olympic champion Carol Heiss wearing a dress with a small shield on her chest, similar to the one Madeline Joyce wore on her costume. I might have squeed with delight when I saw it.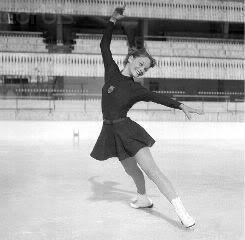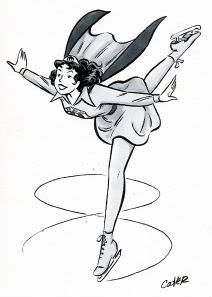 Finding her husband Paul Tobin was a little trickier since he didn't always stay behind the table. Silly writers, who told them they could wander off? Thankfully I was able to get him to sign my Black Widow & Marvel Girls trade and thank him for writing the Natasha mini that wasn't all about her love life.

Friday afternoon I had found Matt Kindt. I'd semi-discovered Kindt at SPX last year by watching him watercolor. His "Super Spy" books are wonderful twisty takes on espionage, spies, love and betrayal. Since I'd loved his Natasha Romanoff adventure in Marvel's "Strange Tales" anthology, I asked if I could commission him to do a Winter Soldier/Black Widow with a Cold War era vibe. One thing this exchange reminded me: don't assume every artist will know what your favorite character looks like, especially fairly recent ones. Some artists have insane memories for characters and costumes, but not everyone does. But if he had the right references available, he agreed. Since it was getting late in the day, I agreed to pick it up the next day. So after I was done getting my sketch from Chris Samnee, I went over to see if the commission was ready. I was so happy with the result.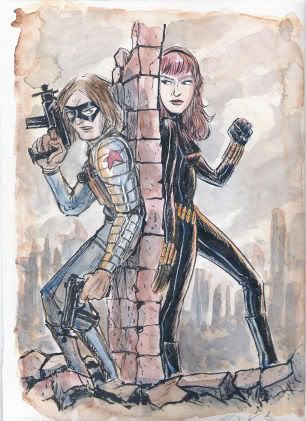 One useful thing was I had my new smartphone, so I could keep up with twitter and email. That also meant I saw people post notices, like Chris Samnee's Hero Initiative sketching. Samnee was one of the artists I discovered on twitter and love his use of blacks and occasional reds for his sketches. For a small donation, Samnee would do a head sketch of your preferred character. This was a lovely way for people to support Hero Initiative and also get a sketch from a well known artist. You could support them by buying their art, comics or little green wristbands. So I had Samnee sketch my favorite Russian super spy, Natasha Romanoff.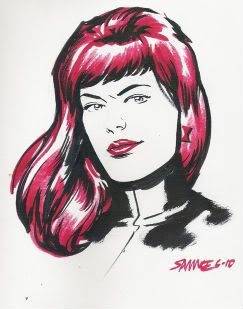 THE SKETCHBOOK

I'd bought a lovely new Moleskine sketchbook. I accidentally left it at Francesco Francavilla's table after getting his Black Beetle ashcan, so I was understandably quite embarrassed. I did immediately put my name, address and twitter username in the book, so if it went wandering again, I'd have maybe a prayer of seeing it again. I'm still learning the whole art side of the con experience. Even armed with knowledge ahead of time, I still didn't always know what the etiquette was involved.

I was a big "Agents of Atlas" fan, so Jeff Parker became the first one to add a sketch with his Namora. I'm also a Wonder Woman fan, so I sometimes think the reason I love Namora is because she's the unabashed regal powerhouse of the team.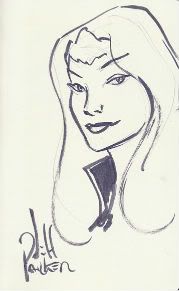 On the last day of the con, I located Franco Aureliani, the Tiny Titans creator I'd seen at Richmond Comix at Free Comic Book Day. He was only charging a buck for your favorite character, so Wonder Girl joined Namora in my sketchbook. (Only fitting that royalty stick together.) Franco commented on how she was sorta the LUcy van Pelt of the Tiny Titans team -- loud and a little brash. I'd like to get a proper Wonder Woman for my sketchbook. Hopefully the sketchbook will continue to grow as I continue to attend conventions.




BUYING STUFF

With all my focus on art and panels, the traditional exhibitors/vendors/dealers did get the short shrift. I only bought one older back issue, World's Finest #250 written by Gerry Conway and drawn by the late George Tuska. I mostly bought it for the Green Arrow/Black Canary part of the story, set so early in their relationship history that Dinah was still thought to be the Earth-2 incarnation, widowed and moved to a new world.

I had gone into Heroes Con determined to buy more comics geeky t-shirts. What I really wanted was an old-school Wonder Woman t-shirt preferably with Jose Luis Garcia-Lopez's older artwork not in a baby doll cut. But all I'm finding are either geared for juniors or baby dolls. The massive "tower of t-shirts" with Stylin was a little intimidating and mostly they didn't seem to have too many in my size. But I did satisfy my inner Marvel spy girl by getting a SHIELD t-shirt.

What else did I come home with? Matt Kindt's Three Sisters, the prequel to Super Spy; Hawkeye/Mockingbird "Women of Marvel" #1 variant; Gabriel Hardman's sketchbook; Steve Epting's sketchbook; Francesco Francavilla's Black Beetle ashcan; Alter Ego #93 and All Star Companion vols 2 & 3.

OTHER STUFF

In retrospect, I do wish I'd brought a real camera rather than relying on my phone. I would have loved to get some decent shots of Hawkeye and Mockingbird or Dazzler and the Isaiah Bradley Captain America. A group of Zatannas (Zatanni?) helped with the art auction. We only swung through to have a look at all the art. Remember my young encounter with Adam Hughes? His Zatanna painting went for $8000.

I also wish I had taken better notes of panels I attended, rather than relying on my memory. I'll have panel reports up later. Quite a number of the panels were recorded by Dollar Bin Comics, so at least you can listen to the audio.

Seeing the artists sketch in person makes one appreciate all the brushstrokes and techniques that go into a particular style. Or there's art that completely defies description. I was intrigued by the concepts behind Jim McCann's Return of the Dapper Men, but it was seeing Janet K Lee's gorgeous woodblocks and artwork that moved me over into the sold and "When can I read it?" column. She also works fast. She was just starting inking a Dapper-fied "Spider Jerusalem" commission when we dropped by the table. We turned around to bond with the table across on X-men and Cyclops appreciation and she was done inking and adding color.

Comics is a solitary but very social hobby for me. That's why I used to love the letter columns because someone else was noticing the same things. That's why I love chatting with other fans about what they're reading. That's why I love hearing artists and writers go fannish over their favorite characters. They're no longer just names on a credit page to me. Hearing artists and writers talk excitedly about their projects gets me interested in their work. To be honest, if I wanted hardened cynicism, there's plenty of that online to go around.

What struck me at SPX was even more true at Heroes. Seeing the fans in the panels asking questions and hearing the creators made me realize how diverse comics can be. I met young and old fans alike. There were people that were just getting into comics or ones that had stumbled into the hobby. There were small publishers putting out their first book and there was Boom's massive booth. There were big name artists with long lines, but there were others you could just go up to and chat with or have sign something. I was able to meet two of my childhood heroes, Roy Thomas and Joe Staton, purely by wandering up and saying nice things.

Charlotte was muggy and hot and miserable. The West hotel was decent, if small for four people, but it was right across the street from the Convention Center. They weren't terribly prepared for the swarm of people needing rooms on Friday. The Westin charged $12 a night for their internet, so I relied on my phone for the entire weekend. The con bar sounded loud when we passed through the lobby, so hopefully many deals and friendships were being struck. As usual, there weren't a lot of eating places immediately around the Convention Center, so we either made do with concessions inside or we hiked around. The bowling alley had surprisingly good food. We were even able to watch the Belmont Stakes.

Heroes definitely lived up to its billing and then some. Everyone was so friendly and polite. I'd come back in a heartbeat.

Read More......